Why choose Magento?
There are several reasons why you might choose Magento for your eCommerce platform. Some of the benefits of using Magento include:
Customization: Magento is highly customizable, allowing you to tailor the platform to meet the specific needs of your business.

Scalability: Magento is designed to handle large volumes of traffic and transactions, making it suitable for businesses of all sizes.

Extensive feature set: Magento includes a wide range of features and tools to help you manage your online store, including support for multiple languages and currencies, SEO tools, and marketing tools.

Strong developer community: Magento has a large and active developer community, which means you can find help and resources online if you need them.

Wide range of integrations: Magento integrates with a wide range of payment gateways, shipping carriers, and other eCommerce tools, making it easy to connect your store to the tools you need.
Overall, Magento is a powerful and flexible eCommerce platform that can help businesses of all sizes succeed online.
Our Magento Services Include:
Development and customization using Magento 2
Creation of custom themes
Integration with third-party tools and platforms
Migration from Magento 1 to Magento 2
Development of the Magento Commerce Cloud platform
Optimization of Magento stores for speed and performance
Ongoing support and maintenance
Code audits to ensure quality and security
Latest Case Study - Magento 2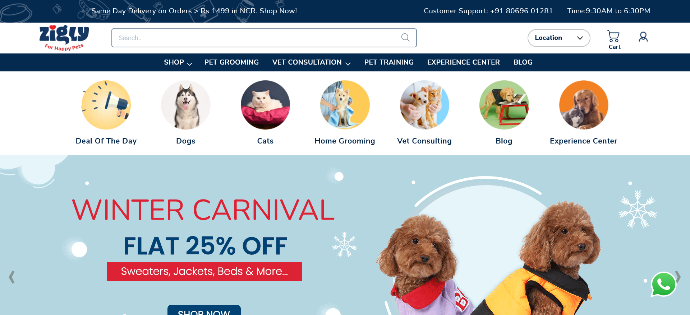 White Label Solution for an IT agency

Custom Design Integration
Complex Customization
Retail Product Types
Booking and Subscriptions
Physical Stores Locator
EPR Integration
SMS and Transaction email integration
Online Consultation
Magento outsourcing to India hourly rates

Hourly rates can vary significantly depending on a variety of factors such as the complexity of the work, the skills and experience of the developer, and the specific location in India where the work is being done. In general, outsourcing development work to India can be a cost-effective option, but it's always important to carefully consider all of the factors involved and do your due diligence when choosing a development partner.
How much it costs to develop a Magento eCommerce site?

The cost of developing a Magento ecommerce site can vary significantly depending on a variety of factors such as the size and complexity of the site, the features and functionalities that are required, and the resources needed to complete the project. On average, you can expect to pay anywhere from a few thousand to several hundred thousand dollars for a custom Magento ecommerce site, depending on the specific needs of your business. Some of the factors that can influence the cost of a Magento development project include:
Custom design and branding: Creating a custom design and branding for your site can be a significant undertaking, and it can drive up the overall cost of the project.

Third-party integrations: If you need to integrate your Magento site with other systems or platforms, such as a CRM or a payment gateway, this can also add to the cost of the project.

Custom functionality: If you need custom functionality that goes beyond what Magento provides out-of-the-box, this can also add to the cost of the project.

Project management and quality assurance: Project management and quality assurance are important considerations when developing any ecommerce site, and they can also contribute to the overall cost of the project.
It's important to work with a development partner that can help you clearly define your requirements and provide a detailed estimate of the costs involved. This will help ensure that you have a clear understanding of what you can expect to pay and help you budget for your project more effectively.